Serviced Campsites & Cabins
At Highwind Lake Camp we have serviced campsites for tenters, campers/RVs, or hand crafted log cabins. All our RV sites are full service with hook up to electrical, water, and gray water. Guests may also dump their black water at the dumping station on exit or as needed. RV sites are spacious, partly shaded, and semi-private, each with water access. Enjoy a beautiful sunrise on the beach or an afternoon swimming just a stone's throw from your site. Sites come with a fire pit and a picnic table.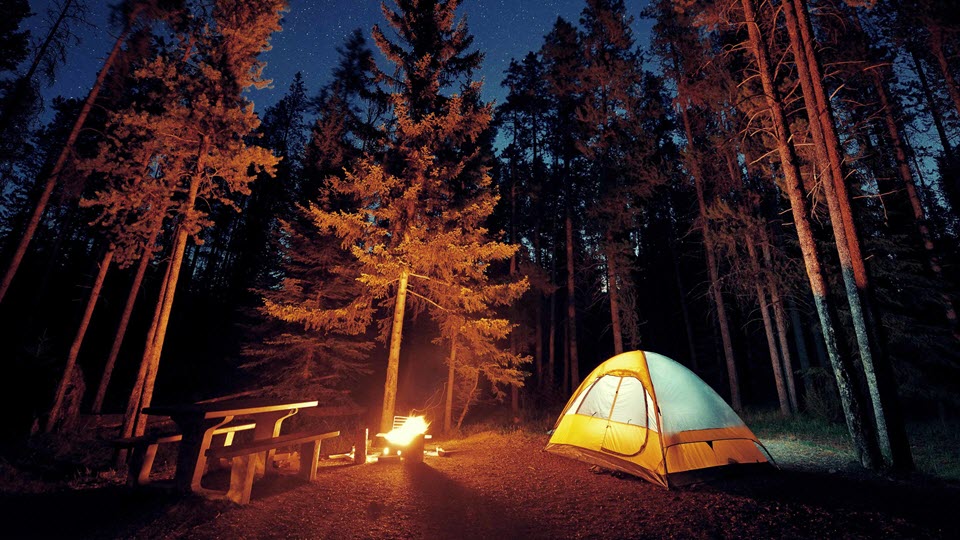 RV sites can be rented for short term or seasonally. These sites are serviced by a central bathroom and shower house with private access showers. Learn more about RV sites.
Tenting sites are also available on both the main campground and the Ethelma Lake side. Tenting sites on the main site are partly shaded, semi-private and have power and running water. These tent sites do not access the water but swimming is available by the dock. Sites on the Ethelma Lake side are non-powered. These sites are serviced by an outhouse but showers are available on the main site. Learn more about tenting and rates.
Looking for a more refined experience? Rent one of our three hand crafted log cabins. These cabins, built from local red pine, are spacious, sleep between 5 and 10 people comfortably, and come with light housekeeping. Relax on the deck and enjoy the view of the lake, or enjoy an evening around the campfire with friends. Cabins come fully stocked with cookware, linens, and a full kitchen (stove, fridge) and running cold water. Cabins are serviced by a modern washroom/shower house facility with a men's and lady's washroom with flush toilets and sinks, 4 large single shower rooms. This is centrally located near to our cabins and campground and will be available for use from spring to fall. Learn more about cabins and rentals.