Black Bear Hunting at Highwind Lake Camp offers excellent hunting opportunities to hunt both small and big game. Black bear, White tail deer, and Grouse are commonly hunted in the area. We offer affordable, quality Black bear hunts for both rifle and bow hunters. We have a high success rate due to our managed baits and large Bear Management Area that is home to a healthy population of Black bear. Our hunting area is surrounded by miles and acres of uninhabited land covered in the rugged forests and terrain of the Canadian Shield.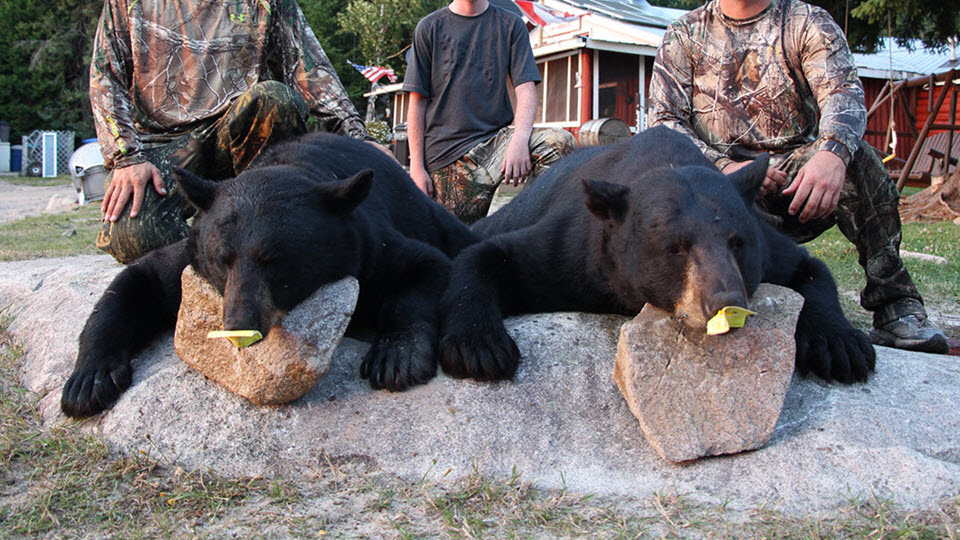 Our hunters can head out right from their cabins with their quads or trucks to reach their bait sites which will have been pre-baited. Our hunters are accommodated in our handcrafted log cabins that are fully equipped for light housekeeping with all cutlery, dishes and cookware supplied. Ideal facilities for Black Bear Hunting.
We manage a number of Bear Management Areas (BMA) which are licensed to us annually. These BMAs allow us to offer excellent hunting for non-residents. BMAs are a part of Ontario's black bear management framework that manage the population of bears to be ecologically sustainable. The management approach is science based and employs research and monitoring to keep up to date. Learn more on how Ontario manages Black Bear populations.
Please be aware we do not provide licenses for hunting. These will need to be obtained through the Ontario Government's License management system. Learn more about our hunt packages and rates, and how to get a license!